So much of 2020 might have been uncertain, but one thing was not: at the beginning of each month my biggest task would be to clean out the second floor of our office building, which served as storage even after we had relocated. There you could find anything from unused computers to seasonal decorations to 1000 pounds of picture frames gathering dust. "Cleaning out" was a daunting task, made more difficult (and rewarding) primarily because my instructions were to avoid the landfill as much as possible; things only went in the trash if, after weeks of searching, there was no one to take them. At times this seemed like an impossible request–COVID severely diminished the need for six-foot wooden desks—but there was no time to slack with a tight timeline. Service Objects is dedicated to both corporate conservation and giving back to the community; any lazy bone I had was given a swift (encouraging) kick if I tried to wiggle out.
Despite occasional frustrations and my natural inclination to plow through the donating process, it turned out to be an incredible experience. The first and most exciting step of cleaning out the second floor (after exhaustive inventory) was to email local nonprofit organizations. While for a time it seemed my methods weren't sparking any interest—especially in the giant wooden desks—by the end of the year, we had a flood of excited organizations.
All of our unused desktops went to Computers for Families, a nonprofit organization that partners with the Santa Barbara County Education Office to distribute refurbished computers to children without home access and connect them to discounted internet services. Their mission became especially important with the onset of remote learning. As a response to COVID, Computers for Families stepped up to provide the same services for anyone in the county in need.
Santa Barbara Wildlife Care Network took storage shelves, along with a variety of smaller knick-knacks, to help them organize their offices. SBWCN is dedicated to caring for injured animals and educating communities in Santa Barbara and Ventura counties. According to their website, they have already cared for over twenty animals in 2021!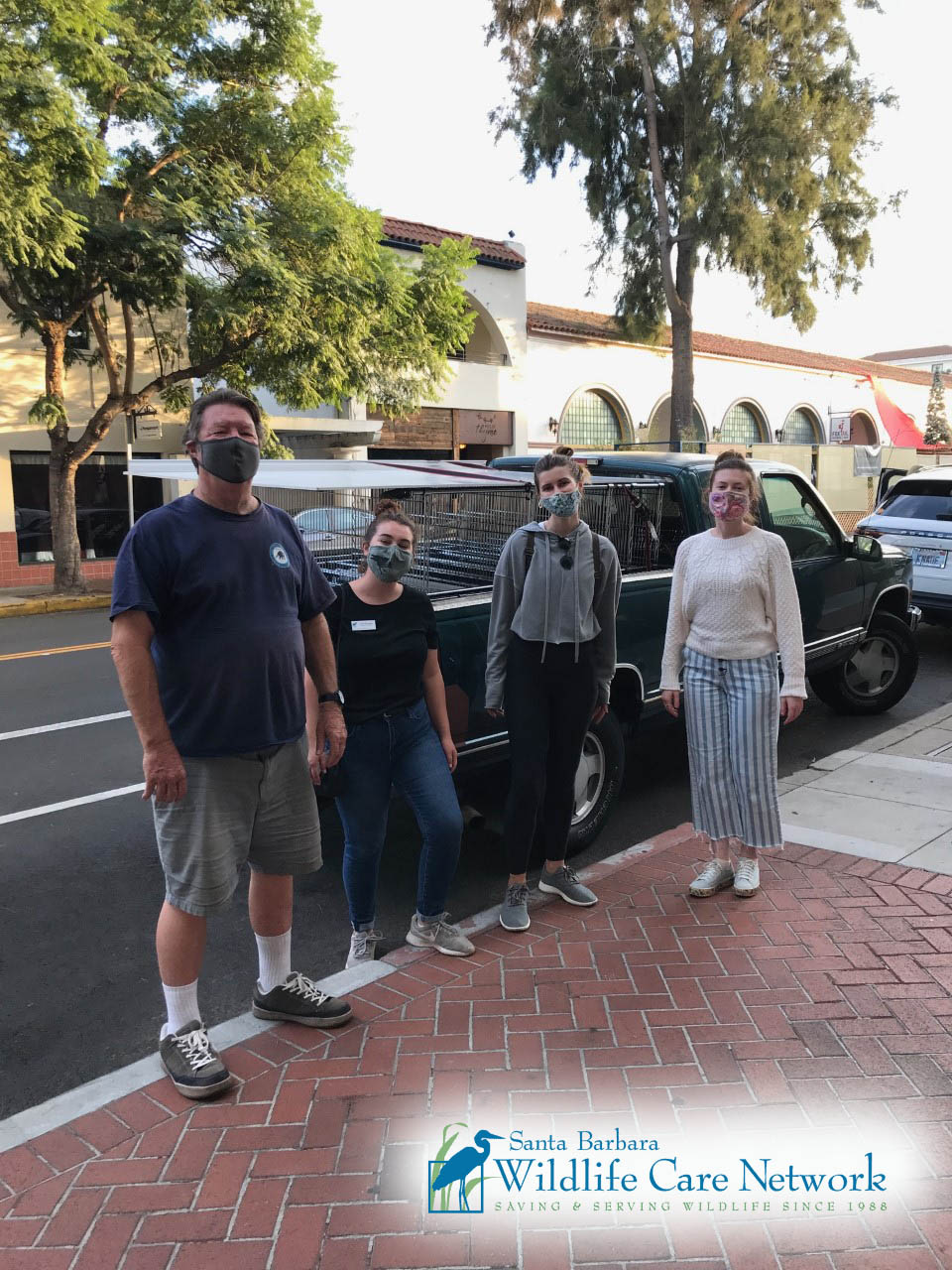 Hidden Wings focuses on helping young adults with autism after they have finished high school. Where traditional universities and colleges focus on building the talents of neurotypical students, Hidden Wings strives to provide similar opportunities and experiences based on visual learning and nurturing individual gifts to students with autism and other disabilities. We had the pleasure of meeting one of their students and IT volunteers to give him backup batteries, a projector, and various computer equipment for his projects.
We donated keyless door locks and storage shelves to Unite to Light to help make their shipping more efficient and their offices more accessible for volunteers, who previously shared one extra key among themselves. Unite to Light believes that clean, affordable light and energy are crucial to health, education, and prosperity. They produce solar lights and power supplies for people around the world. Their president and CEO, Megan Birney, says, "We focus on projects that help students study at night, equip midwives with the tools they need to save lives, and offer relief to those suffering from disasters and experiencing homelessness."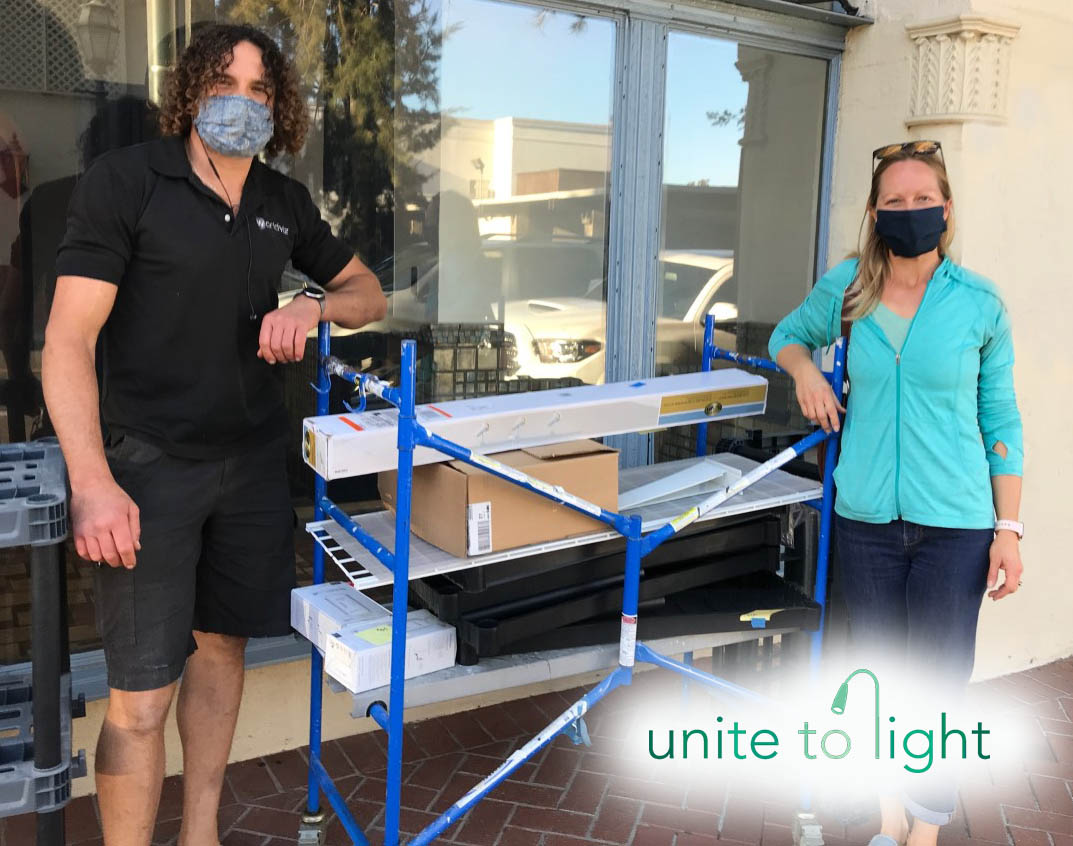 Whiteboards went to the United Boys and Girls Clubs of Santa Barbara County, an organization that provides after school activities, mentorship, and care for youth in the area. Since COVID began, they have been helping during the school day as well, providing childcare and internet access for online schooling.
Northern Santa Barbara County United Way strives to reduce homelessness, improve literacy, and encourage financial stability. During 2020, their partnerships and programs helped find housing for over one hundred homeless veterans, delivered thousands of books to preschoolers, and facilitated employment opportunities for people unemployed due to COVID. We were able to provide them with workstations and headsets to "support infrastructure and drive results in 2021."
The director of the Computer Science Academy, Sky Adams, said that they will use the desks we provided in their Makerspace to create workstations for students in the Maker's Club. Their mission is to create courses and opportunities that will help students connect to both the subject of computer science and it's eventual practical applications.
It was a privilege to meet the volunteers and directors of these organizations. Service Objects' commitment to giving back to the community we are a part of is high up on the list of reasons I love working here (right next to dogs in the office pre-COVID). Throughout the year we have had many rounds of donations; while not all have been entirely successful and certain items—giant desks—went to recycling, by some miracle the most recent round has left us with a (finally!) empty storage space. We hope that every donation we made will contribute to the future successes of the organizations they went to and look forward to a new year of "second-floor cleanouts."