The world as we know it is rapidly changing in the wake of the coronavirus pandemic, and nowhere is it more evident than in how we shop: more and more people are having food, prescriptions and other consumer goods delivered nowadays.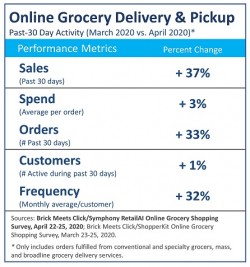 Companies like GrubHub, Uber Eats, and Instacart are seeing explosive growth in their market, with 37% growth in the grocery delivery sector alone. This dramatic growth has amplified the need for accurate, efficient deliveries for all the parties involved.
In this article, we'll look at the importance of address accuracy and geocoding for delivery services, and how we can help optimize both of these areas.
Top two customer complaints: Cold and Late
Delivery services, like Postmates and DoorDash, primarily serve and generate revenue from two types of stakeholders:
Subscribers, which include restaurants, grocery stores, and retailers. They not only use the service for deliveries but also advertise through them, listing their products and menus on the delivery service's website.
Consumers order and receive deliveries through the delivery services.
For restaurants and perishable goods in particular, these deliveries are extremely time-critical. Late deliveries, cold food, and inaccurate addresses all directly affect customer satisfaction and driver retention, impacting both the delivery service providers and subscribers.
source:usfoods.com
Beyond the individual delivery, the logistics of delivery services are complex yet important for both profitability and customer satisfaction. Efficient route planning and optimal use of drivers has a direct bearing on speed of delivery, which in turn affects hiring and resource usage. This impacts employee satisfaction as well: the #1 complaint of drivers is poor tips, and creating more and faster deliveries per driver can be a key factor in tip amount and retaining employees.
Above all, the "cold and late" delivery issue is perhaps the most critical factor for a delivery service in retaining both subscribers (e.g. restaurants) and their consumers. According to a recent US Foods survey, these issues concern over one-third of delivery consumers. When they are dissatisfied with their delivery, their first call is to the restaurant (and potentially social media). This creates a customer service issue for the restaurant with possible refunds and reputation damage.
And far too often, these customers leave for good: as one person recently put it in a post online, "Countless times my orders have been delayed, countless times my orders have been cancelled … customer service representatives are constantly in a bad mood … never ever again." The restaurant has little recourse other than to seek an alternate and more efficient delivery service.
How we can help delivery services
Service Objects' DOTS Address Validation and DOTS Address Geocode products reduce the impact of cold and late deliveries. Our real-time APIs improve accuracy, route mapping and logistics for delivery providers. The result is improved customer service quality, reduced customer support volume, increased delivery productivity, better tips for drivers and more.
Address validation improves delivery accuracy by ensuring that correct addresses are input at the time of order entry, as well as preserving orders by correcting or appending incorrect addresses.
Geocoding enables firms to derive longitude and latitudes from an address to map delivery routes for faster delivery times and better utilization of drivers.
These tools can be implemented directly into real-time address capture platforms as well as mapping and route planning software via API interfaces.
Service Objects is offering free trials and implementation support for our address validation and geocoding services to delivery providers and the software partners supporting them – for more details on this offer, please contact us.