Service Objects, Inc. is fanatical about customer support, we love working with clients and prospects to build the kind of APIs that they want and need.  Some of our best ideas come from listening to our clients and prospects, discussing their problems and figuring out how we could help solve them.  Often, we do quite a bit of tailoring and will develop new features to help solve some of their challenging problems.  One of the recent additions to the Service Objects' library is identifying nonprofit organizations, also known as not-for-profit, or Tax Exempt organizations within our DOTS Lead Validation service.
Why is it important to know if an organization is a nonprofit?
Nonprofits follow different rules than most organizations and a company's interaction with a nonprofit may be completely different than it would be with a for-profit company. Knowing that you are engaging with a nonprofit beforehand allows you to be better prepared and make informed decisions moving forward.
As an example, we recently worked with one of our clients to enhance our Lead Validation service to identify non-profits in their prospect database.  This helps them determine the viability of the customer, their ability to transact large purchases, as well as the pricing they can offer.  In some cases, nonprofits may not need to pay sales tax on goods, which could be a factor in determining how much to charge them.  These are just a couple of examples of the value of knowing the type of organization you are working with.
What is a nonprofit and how do we identify them?
There are many types of nonprofits and most of us are familiar with the visible "public charities." This is a narrow definition, as non-profits are generally defined as an organization that does not operate solely for gain and generally have special tax considerations.  With this broader definition, recognizing organizations can be tough.  They can be; human service organizations that help provide food, shelter and assistance in times of disaster, researching the next big cure, protecting the environment or animals, supporting civil rights groups, helping with international humanitarian needs, human rights or supporting various religious organizations.  The following graphic shows the distributions of current nonprofits: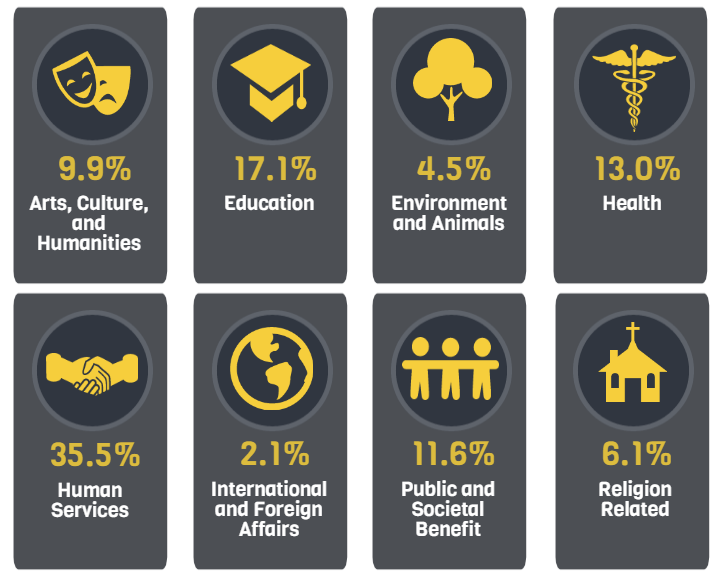 Source: National Council of Nonprofits, What is a "Nonprofit"?, https://www.councilofnonprofits.org/what-is-a-nonprofit
For Service Objects, there are multiple ways we identify a company as a nonprofit, including by Tax number (EIN), address or location, business name and/or a combination of the above.  We continue to develop and improve this feature of our Lead Validation service and are happy to make it available to all of our customers.
At Service Objects, we are committed to meeting the needs of all our customers.  It is just a little more rewarding when we can contribute to doing good as well.