There is much more to an address than a simple delivery destination: it is also a motherlode of data. It contains a unique geographic location, together with economic, demographic and census data. Businesses can leverage this wealth of address data for purposes ranging from targeted marketing to compliance with laws such as fair lending practices.
Service Objects offers numerous products to validate and mine data from your contact addresses, but in this article we'll look at a convenient tool that combines some of our most important functions: address validation, geolocation, and demographic information, in one simple call.
Comprehensive address validation solution
DOTS Address Insight – US is a web service that provides validated, standardized, and parsed address information for US addresses, along with geocoding information and demographics information. To top it all off, it also provides useful insights about the addresses.
Its functions start with validating and standardizing your address data: a Status score is returned that indicates how likely it is that a location exists, which is especially useful for those out of the way rural addresses that may be hard to identify with a normal USPS database. Address Insight also provides instant geocoding data (longitude and latitude) for the address provided. And its extensive demographic statistics help your enhance your customer intelligence (e.g. know your customer – KYC).
Address Insight is what we call a composite service. It leverages the engines built for our Address Validation, Geocoding, and Demographics web services and combines them all into one easy to use package. By consolidating the strengths of these three web services, we can make a single call/request. This simplification cuts down on the number of purchase orders, development costs, and possible points of failure for many address processing applications.
Switching to Address Insight
If you are already leveraging our individual services and are looking to migrate to Address Insight, we can help you through the process. On the surface, it may seem daunting to switch to Address Insight due to the number of output fields it has available. However, when you dig into it, you will quickly find that in most cases there is a 1-to-1 mapping from our Address Validation, Geocoding and Demographics web services with Address Insight.
Below is a simplified example of how mapping inputs for the consolidation process could look.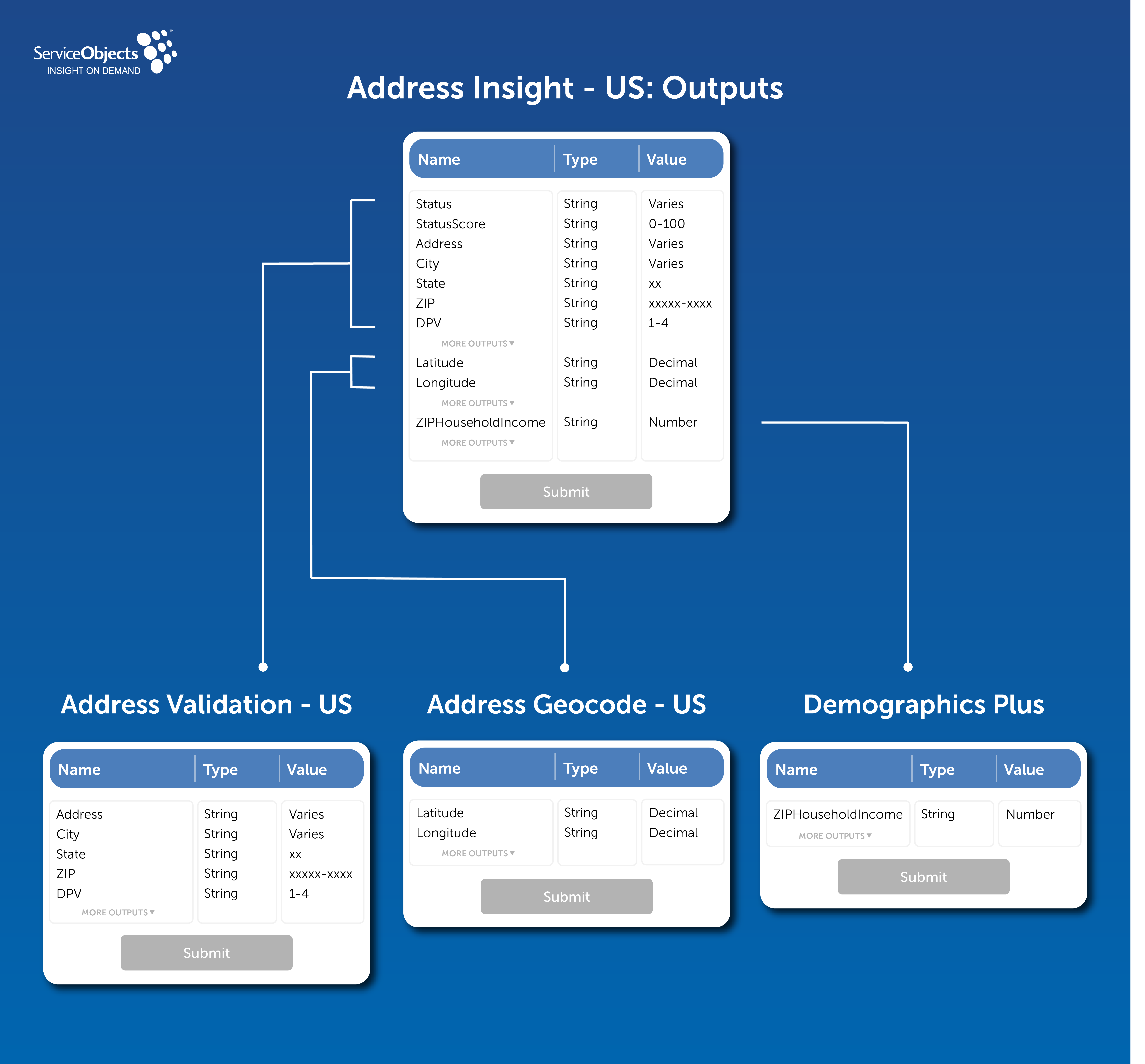 Click here to enlarge image
These direct mappings make it easy to convert to Address Insight, and if you run into any mapping issues, our expert technical and implementation team can review your specific integration and recommend the best course of action. There only a phone call or click away.
To learn more about Address Insight and what it can do for your specific use cases, visit our product page and developer guide for more information.