If you have ever visited the main page of the Service Objects website, you've probably noticed something on the right-hand side of the screen – a running count of how many transactions we have processed since our 2001 founding. And if you've visited recently, you'll see that this count has reached a new milestone: we have now processed over four billion transactions.
How much is four billion? If you put each transaction on an index card and lined them up, they would reach the moon. But what is even more impressive is how quickly we reached this milestone: while it took sixteen years to process our three billionth transaction, it only took two more years to get from there to four billion. We currently process data records at a rate of 1000 per minute, nearly a million and a half per day, and half a billion per year.
The growth of a company and an industry
This milestone not only reflects our own growth, but the role that data quality now plays in businesses of every size. Accurate contact data is no longer an option for most firms, thanks to factors ranging from strict new consumer data privacy regulations to competitive pressures to reduce marketing costs. According to MarketWatch, data quality is now nearly a US $2 billion per year industry that is growing at close to 15% per year.
This also reinforces Service Objects' role as the industry expert in contact data validation, with services that now include global address and email validation, phone validation and more. We are proud to now serve over 2,800 customers, including major firms such as Amazon, Best Buy, Microsoft, Verizon and Mastercard.
Given the increasing role contact data validation now plays in marketing, fraud prevention, regulatory compliance, customer service and many other areas, our industry is poised for even more growth in the years to come. In addition, with every transaction we run our system gets better at weeding out bogus addresses and fraudulent information for our customers, fueling exciting new applications in the years to come.
Serving a higher purpose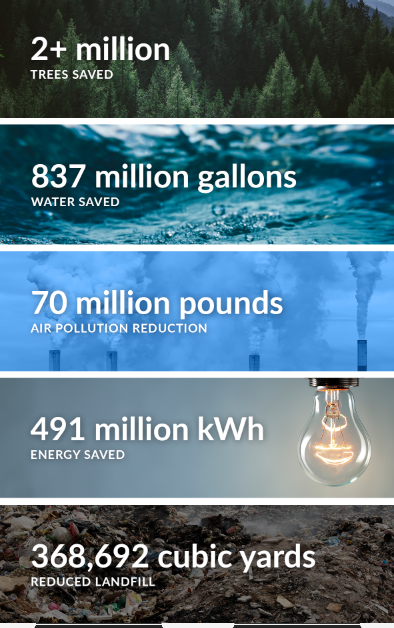 Processing over four billion transactions also reinforces Service Objects' commitment to conservation. One of the company's founding principles when it was first established in 2001 was to reduce the inefficiencies and waste caused by bad data. Since our founding, our data quality efforts for customers have resulted in saving over 2 million trees and 125,000 tons of paper.
We have become the leading provider of real-time global contact validation solutions, with a wide range of applications that go far beyond our roots in validating mailing addresses. Our record-breaking transaction volume and rapid customer growth have also been driven by the service quality and corporate culture that have been a cornerstone of Service Objects, including 24/7/365 support, guaranteed 99.9999% uptime and unparalleled technical expertise.
All of this, of course, revolves around providing what our customers need for all of their contact data quality applications. We look forward to serving you for the next four billion transactions – and beyond!