This week, October 1-5, was Customer Service Week: a nationally-recognized event first proclaimed by the US Congress in 1992. It was designed to recognize the work of customer service professionals in the United States – over 2.5 million nowadays, according to the Bureau of Labor Statistics – and educate people about the importance of customer service in business.
This is always one week where you hear a lot of people talking about customer service. Let's be honest, if you were to ask any business leader whether customer service was important to them, they would all reply "of course." But to us, good service is a little like a good athletic performance: it isn't just an attitude you can summon on command, but rather the end product of having the right culture and practices every day.
As part of our Customer Service Week, our own team made a list of traits that define our approach to customer service, using the letters of S-E-R-V-I-C-E O-B-J-E-C-T-S as a guide: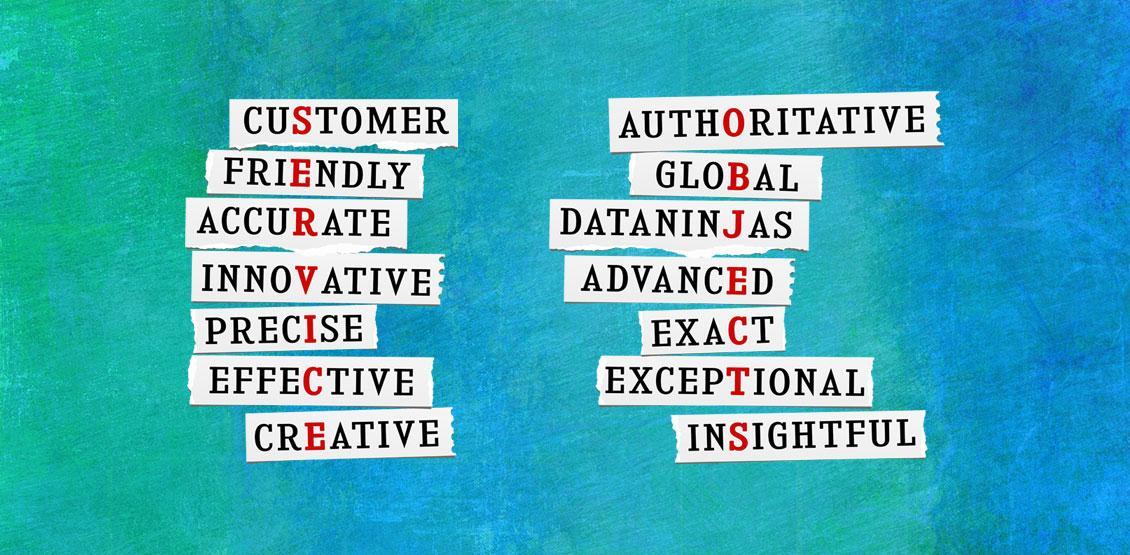 This is actually a pretty good summary of who we are. Let's look at how these terms break down in terms of our approach to our customers:
Data Ninjas
This was our favorite. We're good at what we do, and we take lots of pride in our expertise. We aren't the only company in this space, but we've provided enterprise-level data quality solutions for over 15 years – and everywhere from our development team to our 24/7/365 technical support, people have a healthy "ninja" mentality about being experts and continually learning.
Customer, Friendly, Exceptional
Let's face it, customer service tends to have this smiling-person-with-headset stereotype. But if you've worked with us, you've probably noticed: we really are pretty friendly, with customers and each other. Whether it is our knowledgeable, low-pressure approach to sales, our technical professionals, or even (in all immodesty) our marketing team, you can tell that we like each other – and like working with you, too. This starts with being a cool place to work, and also springs from supporting people to do the right thing with our customers.
Accurate, Precise, Exact
Every great company has a fanaticism about something. With us – being in the data quality business – it is accurate results. People depend on us to provide accurate leads, contact data, tax rates, and a host of other real-time, mission critical information. So much like the bakery that goes the extra mile to make the perfect croissant, getting it right every time is our particular fanaticism.
Innovative, Creative, Advanced, Insightful
This industry doesn't stand still, and we have a lot of fun leading the curve with new tools and capabilities. This year alone, for example, we have rolled out everything from API and service enhancements to our bundled Address Insight capabilities, as well as educational white papers and articles ranging from GDPR compliance to email marketing.
Effective, Authoritative, Global
This is the part of our service reputation we eventually grew into. When our CEO Geoff Grow first started this company in 2001, to correct contact addresses and reduce the waste stream of direct mail, few people envisioned Service Objects as the global company we are now. Today we serve over 2500 customers – including major firms like Amazon, Microsoft, Verizon and American Express – and proudly wear the mantle of an industry leader.
These are some of the reasons that every week is Customer Service Week for us, and why we have built so many long-term partnerships with customers. Last but not least, let us know what we can do to serve you too!