Validating, correcting and enriching address data is not a do-it-yourself project for most organizations. Not only does it require access to authoritative data from the USPS and other proprietary sources but also expertise with business and use case logic to make the data work for your needs.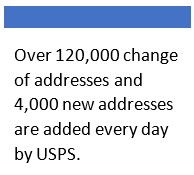 Leveraging third-party address validation services is generally the most cost-effective and reliable approach. Ideally, these services can be accessed through convenient APIs, plugins or a batch interface that can be integrated with your current automation platforms and business processes.
Three simple ways to use address validation services:
Real-Time API (highly flexible)
Plugin
Batch
Validating addresses through an API
In short, APIs are a way for applications to communicate with each other, in real-time, across the web, for a specific purpose and with identified inputs and outputs. In this case, using an address validation API allows you to leverage the expertise of a third-party to validate and correct addresses in real-time. The resulting output, coupled with business logic, determines how the data will be used in your business.

Validating addresses using a plugin or extension
Plugins and extensions are another way that you can take advantage of third-party address validation services. It is helpful to understand, at least in broad concept, that plugins and extensions are synonymous. They basically refer to a software add-on that provides a specific feature or function to an existing platform. In most cases, these plugins are built on the backbone of an API but customized to work within the specific platform and require less technical integration.
Most major CRMs, marketing automation and ecommerce platforms like Salesforce, Marketo and Shopify, allow third-party plugins and usually provide a 'marketplace' for them to be listed. This allows the platforms to focus on what they do best, while third-parties can bring their expertise to bear, making the overall system better. After determining that the plugin exists, a platform technologist would be responsible for activating it and configuring it to meet their needs.
Validating a list or batch of addresses
There are times that you may need to validate a large list of addresses. For most services, you can provide a list or batch of addresses to be validated. The format of the list is usually predetermined, and the output is generally delivered in a comma-separated value (CSV) format. It is the responsibility of the business to re-introduce the corrected data to their business systems. Using the list process to validate is the least technical avenue but it does require someone familiar with exporting and re-importing the data.
As a best practice, we recommend re-validating existing addresses before mass mailings and direct mail campaigns to ensure deliverability.
Service Objects offers and supports all three ways to use our address validation services. We provide comprehensive developer guides, sample code in most of the major programming languages and our technical support team is standing by to help with any integration questions or needs.
Want to know more?
Our data quality specialists are always happy to share ways that address quality can improve your business, feel free to contact us.
If you are interested in testing our US, Canada and International Address Validation products, you can sign up for a free trial key with 500 free transactions.
This article is an excerpt from our free whitepaper, The ROI of Address Validation, which we invite you to download.