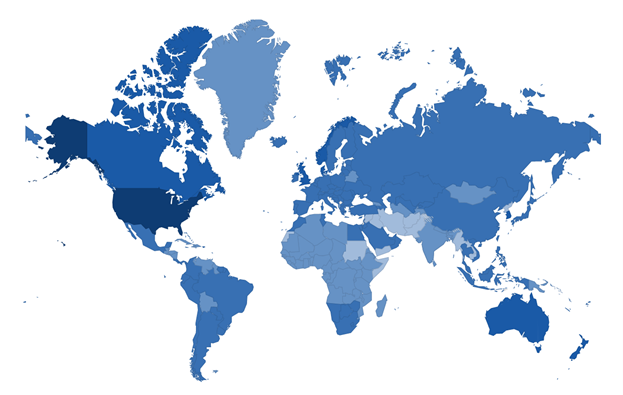 See this map of the world? It shows you some very important news about how Service Objects' DOTS Address Validation – International (AVI) now gives you more address precision than ever before. We now offer subpremise-level validation for 15 key countries worldwide, validating exact and correct addresses for many of the world's major population centers.
Understanding subpremise-level validation
A subpremise is a unit within a street address, such as an apartment or suite number. These identifiers are important for deliverability, whether you are talking about a unit in a large apartment complex, or an office in New York's Empire State Building, a building so large that it has its own ZIP code.
On the map shown, we now offer subpremise-level validation for every country with the two darkest levels of blue. The darkest level, for the United States, refers to our CASS-certified USPS Delivery Point Validation (DPV) capabilities, based on continually updated USPS data for acceptable delivery locations.
The next level of blue shows countries with local subpremise-level validation, allowing you to exactly verify customers or prospects at an apartment complex in Adelaide or an office building in Oslo. In addition to Australia and Norway, we now offer subpremise accuracy in major countries such as Canada, New Zealand and the United Kingdom, Asian population centers including Hong Kong and South Korea, and the U.S. territories of Guam, Puerto Rico and the U.S. Virgin Islands – a total of 15 countries in all.
A previous blog article discusses how precision levels work for specific countries, and an interactive version of this map on our product page will show you exactly what delivery levels are available for each world country. Subpremise data is returned as part of the InformationComponents response from this operation, as shown in the figure, and business logic can be used to check and fix missing or incorrect data.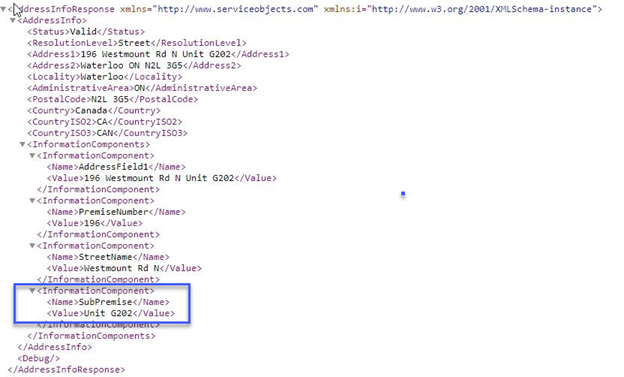 Accurate addresses drive costs and reputation
Accurate subpremise addresses mean more than just deliverability for most businesses: they involve real costs that far exceed the price of prevention. Increasingly, carriers are imposing stiff delivery surcharges for incomplete delivery addresses – not to mention the costs associated with reshipment fees, human time and lost inventory associated with returned mail and packages.
Moreover, the intangible costs of address issues can loom even larger than specific costs, especially today. With the rapid growth of last-mile delivery in a pandemic year, your brand reputation and customer service quality depend more than ever on accurate, precise addresses. It costs much more to acquire a new customer than to preserve an existing one, and keeping these relationships intact means validating contacts at the point of data entry AND time of use.
Address Validation – International, the most recent addition to our flagship address validation services, has grown substantially in capabilities since its introduction in 2016. Today, if you do business globally, it has become a key tool for helping to improve deliveries, reduce costly addressing errors, and controlling customer service costs for contact addresses worldwide.