Service Objects recognizes that our success depends on our customers' success with our products. This is at the heart of our recently launched Customer Success Program. But, how do we know if our program is working? We ask — and we measure success using what's known as a Net Promoter Score (NPS).

With a solid Customer Service Program in place, NPS scores invariably rise. By benchmarking success and regularly revisiting those NPS scores, companies can quickly find out where they stand.
Officially launched in October 2014, our Customer Success Program features intensive customer support during the first 60 days — complete with a dedicated Customer Success Manager, two scheduled check-ins, programming and best practices consultations with engineers, and usage and strategy reviews. These check-ins, consultations, and reviews are strategically timed, allowing customers the opportunity to get acquainted with the product before more in-depth guidance is offered. After the first 60 days, we provide ongoing customer support featuring quarterly check-ins, 24/7 emergency response, courtesy testing keys, extended trial keys, and more. This program is included with all annual contracts.
What is NPS and why is it so important?
The Net Promoter Score is based on the concept that customers fall into three categories: Promoters, Passives, and Detractors. NPS is a numerical value on a scale from 0 to 10 derived from customers answering the following question: On a scale from 0 to 10, with '0' being 'very unlikely' and '10' being 'extremely likely,' how likely are you to recommend the company, product or service to a friend or colleague?
NPS scoring:
9 – 10: Promoters (loyal enthusiasts who refer others and continue buying)
7 – 8: Passives (satisfied customers, but not terribly enthusiastic)
0 – 6: Detractors (unhappy customers who could share negative experiences with others)

The percentage of detractors is subtracted from the percentage of promoters, resulting in the company's Net Promoter Score which is expressed as a percentage.
Below are a few examples of companies with the highest NPS scores in their industries for 2014:
USAA (Banks & Insurance) — 81%
Apple (Technology – Tablets) — 66%
Kaiser Permanente (Health Insurance) — 40%
Pandora (Entertainment) — 56%
Amazon (Online Shopping) — 64%
Southwest Airlines (Airlines) — 62%
Westin (Hotels) — 59%
DirectTV (Cable/Satellite TV) — 34%
As you can see, brands known for high customer satisfaction rates are well represented on this list. Scores in the 60s through 80s are considered quite high. According to The Net Promoter Community, average companies have NPS scores of just 5 to 10 percent, and many companies (including entire industries) actually have negative NPS scores.
Service Objects' NPS score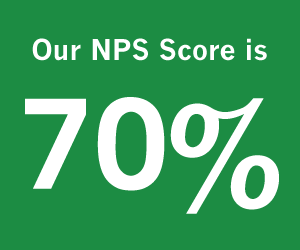 Service Objects' customers have an opportunity to provide this feedback whenever we interact with them such as during upgrades, downgrades, and after technical support inquiries. Our NPS score is 70%, putting us within just a few percentage points of customer service behemoths such as Amazon, Apple, and Southwest Airlines.
Our NPS score tells an important part of our story. However, while the numeric score is meaningful, the anonymous comments from our respondents are invaluable. They reinforce our strong commitment to customer success.
Below are just a few of the many comments we receive:
Easy to set up and easy to use.
You have a fast, easy-to-use service and your customer support has been very responsive.
Super customer service and communication.
The response time to support inquiries is great. Also I can't think of a time that there has ever been any downtime with Service Objects services.
I've been a customer since 2006. Your product and support have always been excellent.
Solid implementation, high up-time and prompt customer service responses. Way to go guys!
A very quick professional response unseen in most companies. Polite staff and quick resolution despite time differences.
You have a powerful web service and your customer service has been extremely responsive and very helpful.
Only a 9 because no one gets a 10!!
The whole team was very responsive in working with us to determine and price the appropriate solutions for our company.
Value – good data at an appropriate price.
Convenience – Data Tumbler is fast and easy.
Customer Service – very responsive.
With comments like these and an NPS score that puts us in good company, we think we're doing a pretty good job. That said, there's always room for improvement, and we're continually striving to make your experience with Service Objects a resounding success! Please always feel free to send us an email or call and let us know what we can do to improve your experience.
Happy Holidays!
Sources:
CustomerGauge, Net Promoter News: 2014 US Net Promoter Benchmarks at a Glance, – http://customergauge.com/news/2014-net-promoter-benchmarks/