In this blog, we often look at specific applications of data quality, such as how to ensure deliverability, maintain compliance with telemarketing regulations, or prevent fraud. Here, we want to reach out to those of you who may be newer to the issue of maintaining your contact data quality, and give you a step-by-step tour of the key parts of the process.
Here is a quick summary of where we are headed in this article: today, cloud-based tools have largely automated the process of ensuring that your contact data is accurate, genuine and up-to-date. These tools can put the power of the world's post offices, geolocation, demographics, and a host of other database-driven capabilities right in your current business applications – all while being used as a convenient process for data cleansing.
What makes these tools deliver real ROI and quality benefits for your business? You! And in particular, the business processes that drive your implementation of these tools. Now, let's take a deeper dive into how you can engineer contact data quality into your operations.
Step 1. Identify objectives and use cases
A cardinal rule of data quality is to work backwards from your most critical business objectives. Here are some of examples of these from our own customers:
You generate marketing leads from your own marketing efforts, but issues such as fraudulent leads, data entry errors and data decay frustrate your sales team and cost you time and money.
You do outbound marketing or customer engagement to people's phones, and need to avoid stiff penalties that come with texting to numbers that have changed hands and are now no longer opted-in with you.
You risk shipping expensive merchandise to incorrect, fraudulent or undeliverable addresses, leading to losses and reputational damage.
Adding geotargeting or demographic-based marketing to your mix could substantially improve the ROI of your lead base, whether it is selling Bills football gear to people who live near Buffalo or marketing high-ticket services to appropriate income groups.
In each of these cases, having accurate contact data is an important part of your objective, but the most cost-effective path to getting there will vary based on your use case, or specific data operations. Here are some examples of some of the use cases that may spring from these objectives:
These use cases will be unique to your business needs, but will have a major impact on the tools, costs and implementation strategies involved in meeting these objectives.
Step 2. Choose the right tools
You can think of most contact data quality tools as filters through which your data flows, at the time of data entry, use or cleansing. Here is one example from our DOTS Address Insight product, which combines address validation with pinpoint-level geocoordinates and demographic information.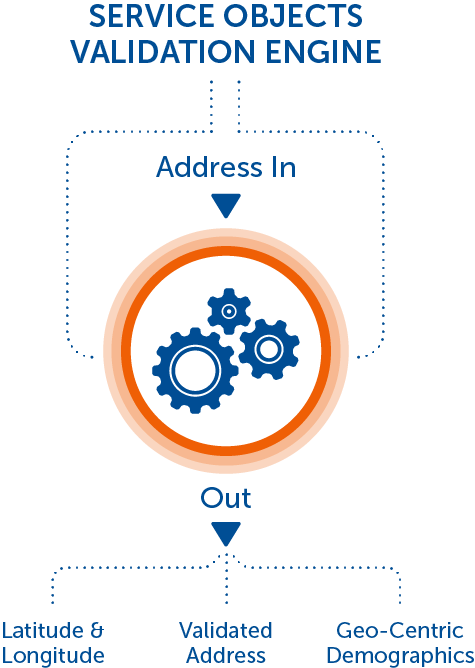 Your use case will play a key role in the capabilities and cost levels involved in choosing an automated solution, because each data quality product has a specific per-transaction cost associated with it. Here are some general guidelines:
Single-capability products (such as Email or Address Validation) are generally less expensive than bundled products (such as Lead Validation, which combines validation tools for individual contact data points, including name, address, email, phone and device, with extensive checking and cross-validation for legitimacy.)
Bundled products can represent a simpler and more cost-effective solution versus using multiple tools – and often include more tightly integrated capabilities.
Some tools, such as our Address Complete capabilities for address autocompletion, can prevent as well as correct errors due to causes such as invalid data entry.
The ROI of specific validation tools will revolve around savings generated through remediation of data errors, data enhancement, or mitigation of consequences such as fraud or compliance penalties. Consider the full organizational impact of these savings – for example, bad address data can have both direct costs such as undeliverable direct mail or shipments, and indirect costs ranging from wasted manpower to reputational damage.
Step 3. Implement the right business processes
Once your objectives, use cases and appropriate products are established, your business processes and implementation strategies are the key components of making data quality an automated, frictionless process.
Let's take a simple example of validating contact addresses. Here is where business process design and implementation become very important:
If your addresses come from multiple sources – such as web forms, data entry, purchased lists, or different touch points within an organization – this informs where and when initial validation may need to take place.
The moment address data enters your database, it starts to decay, as people move, change jobs, or relocate.
The results of validation may trigger specific procedures, such as deliverability results that impact your choice of shipper.
In general, Service Objects tools for contact data quality can either be integrated directly into business applications via API interfaces, or run as batch processes against an entire database. In some cases – such as our DOTS NCOA Live capability for processing continually updated USPS address change data, there are additional implementation factors necessary to meet USPS requirements.
Above all, you will want to follow accepted best practices for ensuring consistent data quality, including validating data at the point of entry AND at the time of use, addressing all possible touch points for data entry, and integrating these tools seamlessly within your normal business applications and processes.
Step 4. Seek expertise and consultation
When you work with Service Objects, you deal with experts who live and breathe contact data quality. Our team helps some of the world's largest companies implement mission-critical contact data applications, as well as small niche companies with specific needs. A no-pressure consultation with our friendly product experts is often the quickest way to find a cost-effective solution to your needs.
When it comes to implementation, Service Objects can support you with free product demonstrations, complimentary trial licenses that let you test-drive your implementation at no charge, extensive developer documentation, and available 24/7/365 technical support. Plus, our expert advice and articles can help make the implementation process a smooth one for you and your team.
Today's era of automated, cloud-based solutions for contact data quality makes it possible for you to engineer cost savings, better workflows and happier customers into all of your customer-facing business activities – and more importantly, put these capabilities on autopilot for many of your most common needs. Contact us anytime to discuss your own situation, and see what our team can do to assist you.