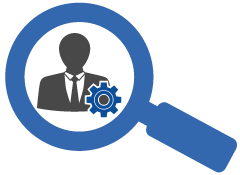 You've heard of all the benefits of contact validation, but yet something's holding you back. Whether you're unsure about how to implement contact validation with your existing systems or concerned about the potential cost, rest assured, it's easier to succeed with contact validation than you might think. Here's why:
Various contact validation APIs are readily available.
The type of data you can validate with contact validation software includes everything from names, addresses, phone numbers, and email addresses to credit card BIN numbers and demographic data and more. Whether you need to pinpoint the exact physical location of your customers for accurate deliveries, would like to learn more about your customers, want to reduce your mailing costs, or want to validate transactional data for signs of fraud, there's a contact validation product that can do it.
APIs are easy to integrate into existing systems and web forms as well as third party software such as Salesforce.com, Oracle DB, and Drupal UberCart.
For example, Service Objects APIs work with most common web form types including Java, PHP, .NET, and others. Sample code is provided for many programming languages. In addition, Service Objects has a team of experienced engineers who are happy to help guide you through the XML integration process. If you use SalesForce.com, Oracle DB, Microsoft CRM 2011, Microsoft Office, Microsoft SQL Server, or Drupal UberCart, integrating contact validation into your existing solution is a simple matter of installing a plugin; there's no programming required.
You can get up to 500 free API test validations to try before you buy.
If you're not sure that contact validation is right for your organization, one way to find out for sure is to try it for yourself. Service Objects offers a free trial key for each of its contact validation APIs, allowing you to validate up to 500 contacts before making a decision.
Once configured, contact validation happens in real-time.
The hardest part is deciding to embrace contact validation and implement a real-time contact validation solution, and that's really not all that difficult. From there, your contacts will be validated at the point of entry. You'll never send another expensive mailer to "Homer Simpson" at 123 Main Street again because the API will recognize that name and address as bogus the moment it's entered.
Contact validation quickly pays for itself.
Contact validation has a fantastic ROI. For example, if 15 percent of the addresses in your mailing list are undeliverable and you mail 10,000 letters a month, you'd be paying for supplies and postage for 1,500 letters each month. Assuming you're paying 44 cents in postage, that's at least $660 each month in wasted postage. Contact validation can also reduce fraud, improve deliveries, and improve productivity, all of which have a positive effect on your bottom line.
Finally, Service Objects includes its "Customer Success Program" with its annual contracts. Dedicated account support, engineering and application support, courtesy testing keys, and a 24/7 emergency response work together to ensure your contact validation success! So what are you waiting for? Start your free trial today and see for yourself just how easy it is to succeed with contact validation!